Our ovens - more room for your ideas
If you're into cooking, the oven is a quintessential part of what you love. Our oven range enables you the enjoy your very own cooking experince. Steam, Slide&Hide®, CircoTherm®, compact or double ovens with innovative features let you cook up almost anything you can think of.
Our Pyrolytic Self-Cleaning Ovens – the oven that almost cleans itself
When you activate the pyrolytic self-cleaning cycle, high temperatures of up to 485C turn baking, roasting and grilling spatter and residue into ash. Once the oven has cooled you can simply wipe it away with a cloth. That's all there is to it! With the Stylish and innovative Slide&Hide® single oven now available with pyrolytic self-cleaning, cleaning up those little spills won't eat into your dining time.
Our Full Steam Ovens – a fully functioning oven and steamer in one
Our FullSteam oven combines all the heating modes of a full-featured oven with those of a steam oven, in one single appliance. Ideal for fish and vegetables, nutrients are retained and food is left beautifully flavoursome. It's easy to operate and also simple to refill the concealed one litre water container – press a button to open the front panel, remove the container, fill it and you're ready to steam ahead.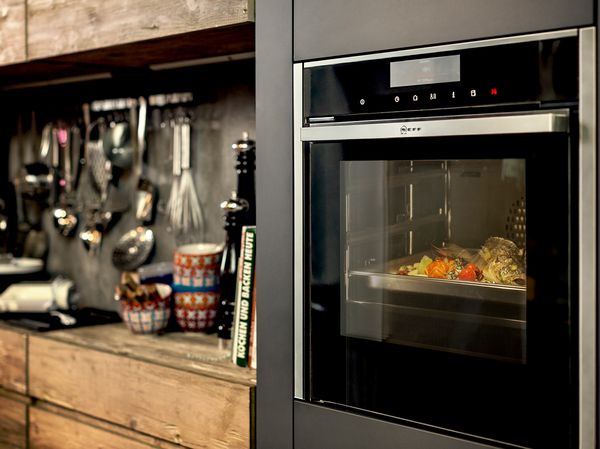 Our Single Oven Range - putting great cooking in your hands
Our range of single ovens are designed to be the centrepiece of creative kitchens. Neatly combining oven and control panel in a single appliance and framed by stainless steel strips, our ovens are a great fit for almost any kind of kitchen. When it comes to the oven, you can choose between different features like our intelligent steam support VarioSteam®, or Pyrolytic Self Cleaning that makes tidying up after cooking a feast a breeze.