Fridges and freezers for food lovers
Fresh, seasonal ingredients are a staple in any NEFF kitchen. That's why the right food storage is so important: all our models - whether it's a large American-style fridge freezer that can cope with the demands of a hungry family, or a fridge freezer that integrates seamlessly into the kitchen furniture - give you the flexibility to keep your fruit, vegetables and herbs crisp and vibrant for longer.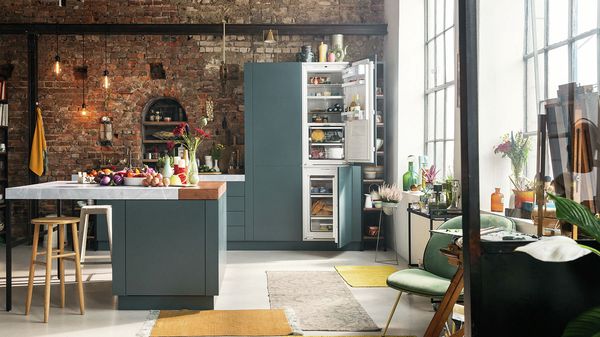 Fridge Freezers
All-in-one flexibility
Cooking is all about new ideas and fresh inspiration - and NEFF fridge freezers are no different. You can choose between models that keep your ingredients fresh for up to three times longer with our built-in FreshSafe food preservation systems.
Flexibility is key, which is why our useful shelving allows you to adjust the space in your fridge to suit and gives you with easier access to those hard to reach items at the back of the fridge. Our freezers also come with a range options to maximise space, such as BigBox.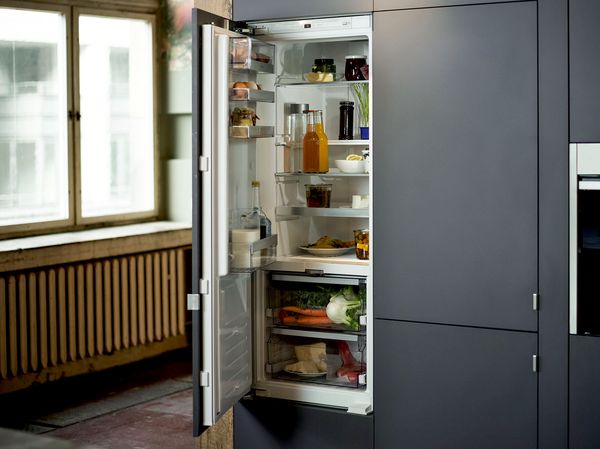 Fridges
Fresh for longer
Our fridges help retain your food's taste and nutrients, giving you better cooking results. With FreshSafe food preservation, your ingredients stay fresher for longer. MultiAirFlow distributes temperatures equally throughout the fridge, ensuring every leaf and every yoghurt pot is properly chilled.
Additional NEFF features, such as EasyAccess shelf and VarioShelf, take the hassle out of stocking up your fridge. So instead of fiddling with compartments, you can get straight to preparing your next meal.
Freezers
For frozen goodness
If you love cooking, you'll appreciate the benefits of a good freezer. That's why NEFF freezers are filled with functions to make storage more flexible and thawing effortless.
Frost builds up very slowly, so you needn't defrost often, but when you do, it won't take as long with LowFrost. Or if you want to avoid defrosting altogether, NoFrost prevents frost building in the first place.
Flexible storage and easy access is another bonus. With features such as VarioZone flexible glass shelves and BigBox, you can utilise the space to accommodate large and small items.
American-style Fridge-Freezers
More room for convenience
If you are a passionate cook who requires optimum space and convenience, our NEFF American-style range is a great option. You can choose between our eye-catching free-standing stainless steel model, or incorporate the fridge and freezer into your individual kitchen design.
Inside the American-style models, you'll find our FreshSafe food preservation system which keeps food fresher for longer. There are easily accessible compartments with flexible, pull-out shelves, a wine rack, Slide&Hide® butter compartments and LEDs to cast a pleasant light on the stored food.