Fridges and freezers for food lovers
Fresh, seasonal ingredients are a staple in any NEFF kitchen. That's why the right food storage is so important: all our models - whether it's a large American-style fridge freezer that can cope with the demands of a hungry family, or a fridge freezer that integrates seamlessly into the kitchen furniture - give you the flexibility to keep your fruit, vegetables and herbs crisp and vibrant for longer.
All-in-one flexibility - our Fridge Freezers
Cooking is all about new ideas and fresh inspiration - and our fridge freezers are no different. They are bursting with ideas to optimally store the food you love. You can choose between models that keep your ingredients fresher for up to three times longer with our built-in FreshSafe food preservation systems.
Flexibility is key, so we've made it easier to reach for those pots and jars at the back of the fridge with our simple EasyAccess shelf. There is also a sectioned glass VarioShelf to adjust the fridge space to suit, and with our ingenious Slide&Hide butter compartment, the cover simply slides underneath, out of the way.
The freezer section is also full of options to adapt to your needs. Whether you're storing small ice cream pots, or a whole chicken – removable glass shelves and capacious drawers like BigBox help you create an ideal space for frozen goods of all shapes and sizes. With LowFrost, you hardly ever have to defrost your freezer. But when you do, it's much quicker than before.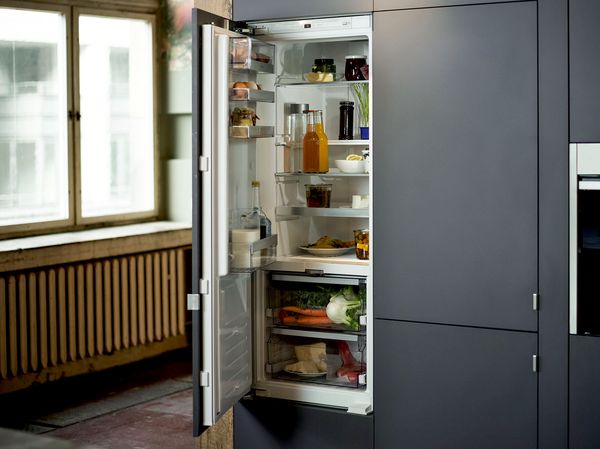 Fresh for longer - our Fridges
Oranges that keep their vitamins locked in and fresh salmon that retains its vibrant colour – our fridges help you enjoy your food and, of course, your cooking to its fullest.
Our FreshSafe food preservation ideas keep your ingredients fresher for up to three times longer. Choose between FreshSafe 2, a drawer with a humidity slider that keeps fruit and vegetables fresh twice as long, or FreshSafe 3, with two near-zero-degree climate zones that keep fruit, vegetables, meat and cheese fresh three times longer.
MultiAirFlow distributes temperatures equally throughout the fridge, ensuring every leaf and every yoghurt pot is properly chilled. Stocking up your fridge with exciting ingredients for your next creation is simply a joy thanks to the pull-out EasyAccess shelf and the sectioned glass VarioShelf. The Slide&Hide butter compartment lid simply glides underneath and out of the way. So instead of fiddling with compartments, you can get straight to preparing your next meal
For frozen goodness - our Freezers
If you love cooking, you'll appreciate a good freezer. After all, when stored correctly, frozen food can unleash its full flavour and lusciousness when you bring it back to the kitchen. That's why our freezers are filled with functions to make storage more flexible and thawing effortless.
Frost builds up very slowly, so you needn't defrost often, but when you do, it won't take a long with LowFrost. Or if you want to avoid defrosting altogether and spend more time whisking sauces or chopping tomatoes, we recommend NoFrost. It prevents frost building in the first place.
Flexible storage and easy access is another bonus. Our VarioZones with flexible glass shelves can be adjusted to suit anything from smaller sorbet pots to larger containers -making it easier to find what you need. Larger items, like a frozen turkey can be stored in the, aptly named, BigBox. SuperFreeze reduces the temperature when fresh food is added - a nifty feature when you load the freezer after your shopping.
More room for convenience – our American-style range
If you are a passionate cook who likes to scan all your available ingredients at a glance, our American-style range is a great option. Our American-style models are all about convenience, with doors opening like a cupboard. You can choose between our eye-catching free-standing stainless steel model, or incorporate your fridge and freezer into your individual kitchen design.
Inside the American-style models, you'll find FreshSafe 3 which keeps food fresh up to three times longer. There are easily accessible compartments with flexible, pull-out shelves, a wine rack, Slide&Hide butter compartments and LEDs to cast a pleasant light on the stored food. What you can't see, however, is our promise to keep food at its peak for longer so you can make culinary magic.