Fridges for effortless food preservation
It's never been easier to lock in freshness to create sumptuous dishes. Our fridges give you more flexibility to preserve nutrients. Choose between FreshSafe 1, 2, and 3 and keep fruit and vegetables, meat and cheese fresher for longer with sophisticated temperature control. Plus, handy pull-out drawers and variable shelves combined with LED lights help you organise everything effortlessly.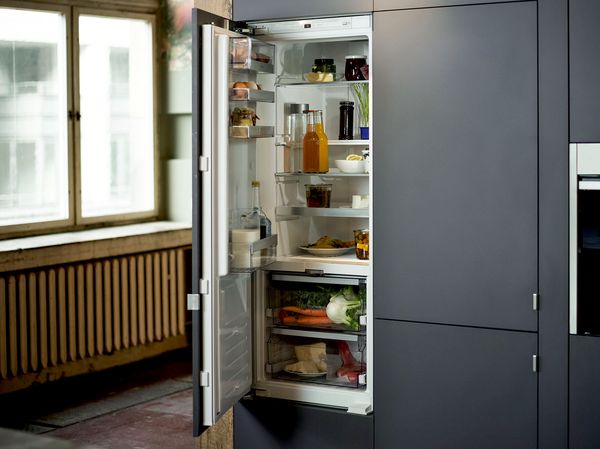 Chilled to taste - our built-in Fridges
Whether you prefer cooking for a big audience or for the select few, our built-in fridges suit your kitchen space and the food you love to prepare. They can easily be combined with a freezer behind one kitchen unit door. As well as a variety of widths and heights to choose from, inside, our models offer even more flexibility. After all, what's the use of a fridge if you can't reach the jam jars, yoghurt pots and anything else at the back of the shelf ? With our fridges, you can: simply pull out the EasyAccess Shelf to reach even the farthest corner.
We have also devised a smart food preservation system: FreshSafe 1 has three drawers, including one for fruit and vegetables and two drawers with temperatures nearly as low as 0°C – ideal for storing meat, fish and hard cheese. FreshSafe 2 features a high humidity drawer that ensures your fruit and vegetables stay fresh and keep their bite twice as long. FreshSafe 3 has two near-zero-degree climate zones that keep fruit, vegetables, meat and cheese fresh up to three times longer. That's a great way to lock in vitamins and nutrients, and to keep tenderloins triple-fresh.