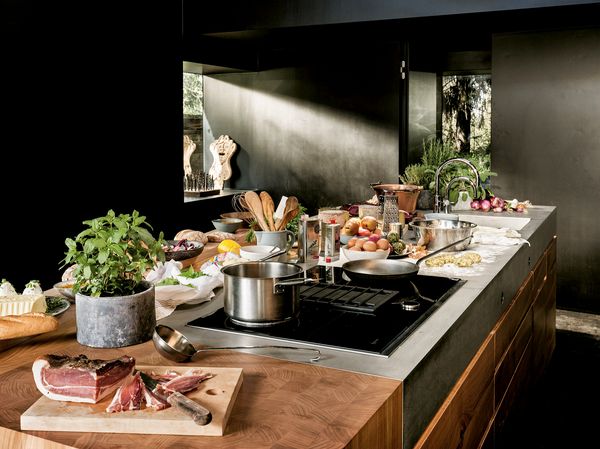 A kitchen to breathe in
Premium, space-saving and designed with creative cooks in mind.
Our FlexInduction Venting Hob frees you to place the hob wherever you want, whether it be on a kitchen island or in front of a window. With no hood in the way, there's nothing to block your view or creativity.
With a stylish cast-iron grate placed over the hood, the grate conveniently doubles as a pan rest too – even when it's on.
TWISTPADFIRE® control
Point and twist for control and flexibility combined
Our Venting Hobs are designed to respond to your way of cooking. With the removable and illuminated TwistPadFire® dial you can react to pans bubbling away quickly and easily. Simply point and twist towards your cooking zones to activate and adjust heat.
Once you've finished cooking, the magnetic TwistPadFire® dial can simply be removed for easy cleaning and a sleek stylish hob finish.
Intuitive induction cooking
Featuring PowerMove and FryingSensor for flexible yet precise cooking
With 5 selectable temperature settings that hold levels of heat steady, FryingSensor ensures there's no more burning. Whilst PowerMove divides the FlexZone into three heating zones: boiling in front, simmering in the middle and warming in the rear. And, as the cooking starts to heat up, our Hob Hood Control feature detects how much steam is present and automatically sets a suitable level of extraction.
Beautifully designed and featuring a cast-iron grate that doubles up as a pan rest, the NEFF Venting Hob is the perfect choice for a space-saving yet premium kitchen.
You may also be interested in