INTRODUCING SLIDE & HIDE®
When you're passionate about food, nothing should get in the way of your cooking.
Our unique NEFF Slide&Hide® door is the only oven door that slides away underneath the main cavity, giving you more space in your kitchen. With easier access to the oven, basting, tasting and monitoring dishes is much easier, meaning even tastier results. Recognising our customers' need for maximum cooking space, our unique full-sized single ovens are now even larger with a 71-litre capacity, allowing you plenty of room to get creative.
SLIDE IT, HIDE IT, BAKE IT, CLEAN IT
NEFF Slide&Hide® Ovens
The only oven with the unique disappearing door
Our one-of-a-kind Slide&Hide® Oven is the ideal choice for space saving kitchens with big ideas. As the name suggests, the innovative oven door slides and hides to fit smoothly under the cavity, allowing you closer accessibility to your cooking.
With a host of features and functions available, there's a Slide&Hide® Oven for every Cookaholic.
Slide & Hide® with Circo Therm®
Available with the innovative and unique CircoTherm® hot air technology, our Slide&Hide® ovens can cook up to four dishes across different levels and everything will come out tasting as it should. By drawing air in from the oven via a powerful stainless steel fan, our unique CircoTherm® system then heats up the air and forces it right back into the oven cavity, ensuring the hot air is focused directly on to the food being cooked. Precise and even cooking has never been easier than with the Slide&Hide® Oven with CircoTherm®.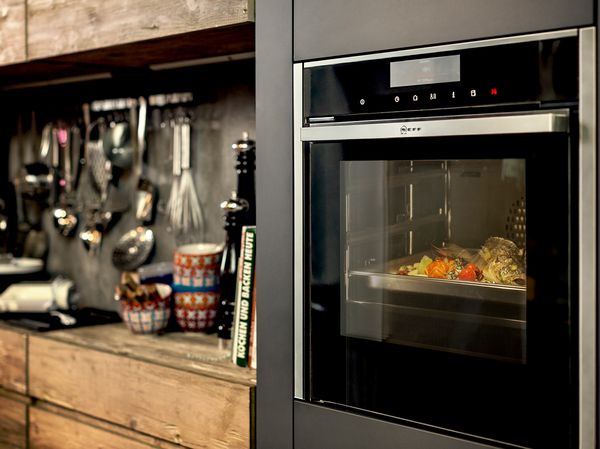 4D CircoTherm®
Four dishes, one oven
Offering all the benefits of our original 3D system, 4D CircoTherm® combines a balanced stainless steel fan with a specially designed back panel and state-of-the-art electronic motor for optimum multi-level results. The electronic motor automatically switches air rotation every few minutes to deliver even better heat distribution, facilitating cooking & baking on up to 4 levels simultaneously. 4D CircoTherm® is an energy efficient alternative to our 3D system and is standard on all N70 & N90 single ovens.
3D CircoTherm®
Cook a three course meal in one go
Standard on all N50 single and double ovens, our original and renowned 3D CircoTherm® system combines a specially designed fan and back panel to deliver even cooking & baking on up to three levels – allowing you to cook, bake or roast your starter, main and dessert at the same time with no intermingling of flavours.
Slide & Hide® with Pyrolytic
Slide&Hide® with Pyrolytic
Love cooking but hate cleaning?
With the stylish and innovative Slide&Hide® single oven now available with Pyrolytic self-cleaning, cleaning up those little spills won't eat into your dining time. From bubbled-over cheese to sizzling joints of meat, spatter and spillages are simply turned to dust, allowing you to effortlessly wipe away any residue once the oven has cooled.
Featured on selected Slide&Hide® oven models, our highly convenient Pyrolytic Self-Cleaning function does the hard work for you.
AN OVEN FOR EVERY COOKAHOLIC
Find your perfect oven
We have a Slide&Hide® oven to suit every Cookaholic.
Whether it's steam cooking for fuller flavour, a self-cleaning oven for time saving or multi-level cooking for a demanding home, our range of features are designed to meet every requirement.
In just seven simple steps, you can find the ideal NEFF oven for all of your cooking needs.
NEFF Recipes
Dishes you can't resist
We have a range of mouth-watering recipes specifically designed to show off our range of features on the Slide&Hide® ovens.
Simple to use, our Recipe Portal allows you to filter based on meal type, feature and season, helping you to find the perfect dish.