Behind the door, AHEAD OF INNOVATION
Whether it's washing dishes, lightening the laundry load or keeping your food as fresh as possible, NEFF have appliances to make life easier. NEFF's integrated appliances do all the hard work behind the door so you don't have to; working tirelessly and quietly in the background, you can enjoy getting creative in the kitchen with friends and family… carefree. NEFF are proud to be the built in appliance experts and offer range of flexible refrigeration to fit any space, quiet yet powerful dishwashers designed to save water and large 8kg capacity, energy efficient washing machines.
ULTIMATE FRIDGE FREEZER FLEXIBILTY
We have a range of fridges and freezers so there is something for everyone. Whether it is a large American-style fridge freezer, or a single door fridge and freezer, we're confident that there is a model to suit each unique kitchen. In addition, our innovative food preservation system Fresh Safe, available in selected models, keeps ingredients fresher for longer. Herbs, fruits and vegetables stay crisp, vibrant and fresh retaining vital nutrients and vitamins and locking in flavour.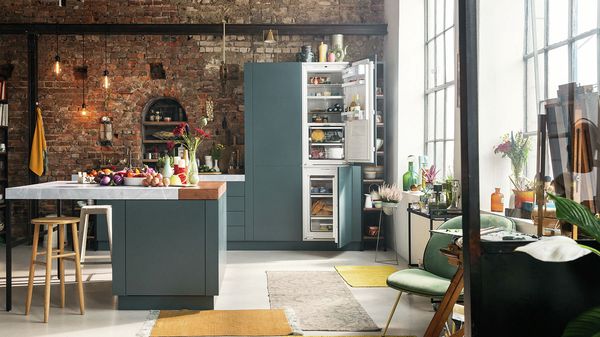 Side-by-Side Fridges and Freezers
Stylish yet practical cooling
Our single fridges and freezers are designed to sit parallel to one another in order to create a double-door effect. By placing a left-hinged and a right-hinged freezer (or vice versa) side by side, you can easily browse fresh and frozen ingredients before getting creative in the kitchen. Furthermore, a smooth door opening is facilitated by a simple fixed or sliding hinge.
Over/under Fridges and Freezers
Cooling solutions for every Cookaholic
Our over-under installation options are perfectly tailored to suit every Cookaholic's lifestyle. Conveniently 'stack' your fridge and freezer and ensure your cooling space reflects how you like to cook.
For those who tend to shop little and often, a smaller capacity fridge & freezer doesn't need to impact on your space. Equally, if family life makes ample freezer space essential, an equal height '50/50' fridge freezer combination provides the perfect solution.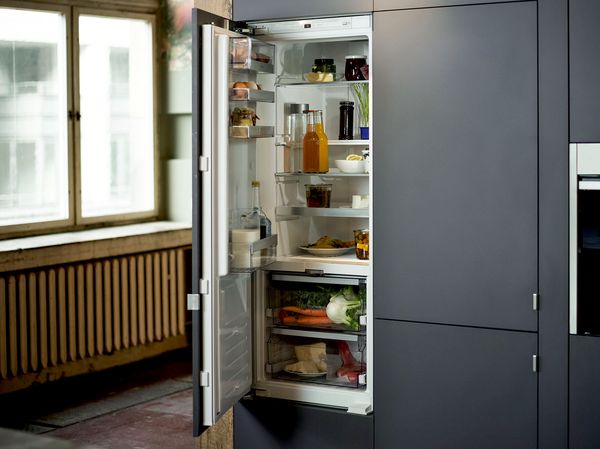 FreshSafe Your Food
Keep your favourite ingredients at their best, for longer
Fresh, seasonal ingredients are a staple in any kitchen. That's why we've developed a range of preservation systems to help your food stay at its best for as long as possible. Using our FreshSafe humidity control drawers, herbs, fruits and vegetables stay crisp, vibrant and fresh for longer.
Available in selected models, our innovative 0•c fresh safe preservation system prolongs the life of food to help reduce waste. Now that's cool!
you may also be interested in